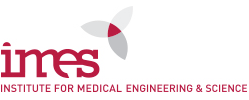 IMES –
MEDRC became a part of MIT's Institute for Medical Engineering and Science (IMES) at its inception. Established in 2012, IMES serves as:
An integrative force across MIT, bringing together research and education efforts at the nexus of engineering, science, and clinical medicine to advance human health
A portal for building strategic partnerships with hospitals and industry to confront major medical challenges
A robust home for the Harvard-MIT Health Science & Technology (HST) program, which has a rich history of educating leaders in medicine and health-related technologies.
Through IMES integrative force across MIT and participation of MEDRC leadership, the Engineering Healthcare whitepaper was written for MIT's Resource Development to connect philanthropic resources to groups working at the interface of Engineering, Science and Medicine including MEDRC.


Analog Devices, Inc., also known as ADI or Analog, is an American multinational semiconductor company specializing in data conversion, signal processing and power management technology, headquartered in Norwood, Massachusetts.


The MEDRC played a significant role in attracting Nihon Kohden to locate its Innovation Center in Cambridge as well as motivating Philips Healthcare to move its healthcare research from Briarcliff, NY to Cambridge.


Novartis International AG is a Swiss multinational pharmaceutical company based in Basel, Switzerland.

Massachusetts General Hospital
– At MGH we collaborate in the development of ultrasound imaging techniques for the liver, kidney, and thyroid. MEDRC played a leadership role in defining the MIT-MGH Strategic Alliance and leads the Grand Challenge, "Transforming Diagnostics." Eight seed projects with Principal Investigators from MIT and MGH as well as students and clinicians from each Institution have been completed and five new seed projects have been initiated.

BIDMC
– At BIDMC we are developing ultrasound health muscle monitoring techniques in the ICU.

Veterans Affairs Medical Center
– At the Veterans Affairs Medical Center our ultrasound technologies are used for screening myosteatosis and sarcopenia and a novel approach to progressive resistance exercise involving eccentric muscle actions (i.e., force produced when muscle lengthens).

Shriners
– At Shriners our ultrasound technologies are used in the development of physical measures of pre-transplantation liver health for livers undergoing re-perfusion therapies.